Friday, October 27, 2006
TXU's First Amendment Pollution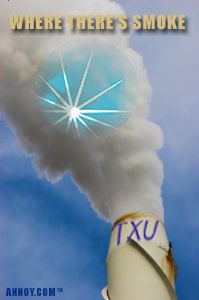 In an example of corporate bullying and one of the more frivolous threats filed by a corporation, Texas energy giant TXU is threatening an environmental group, Downwinders at Risk, alleging trademark dilution.
According to Public Citizen, an organization with a strong history of protecting the First Amendment:
TXU objected to the group Downwinders at Risk's use of the TXU logo, along with the logos of other pollution-causing corporations, on a float depicting Gov. Rick Perry kissing a dirty smokestack. The float was part of a protest to represent the close political and financial relationship between the governor's office and the energy industry. TXU threatened to sue the organization for trademark infringement and dilution unless it removes the logo from its float and any published materials.
David Poole, TXU's executive VP and general counsel, ignoring the first lesson over-zealous inside counsels are apt to miss, drew national and international attention to TXU's polluting history by warning that TXU would "have no choice but to protect its trademark from infringement and pursue all available legal remedies."
Public Citizen's Paul Levy reiterated in a press release similar objections to TXU's actions as he did in a letter to TXU's Poole:
TXU's claim that this grassroots group must ask the company for permission to depict and criticize it is patently absurd. The company's real motive is to use the threat of costly and intimidating lawsuits to stifle the political participation and free speech of citizens who are legitimately concerned about the effects of TXU-caused pollution.
In a predictably idiotic comment, TXU spokeswoman Kim Morgan told
The Dallas Morning News
TXU was "very hopeful they will simply stop using our logo." As hopeful perhaps, as Downwinders at Risk is that TXU will refrain from building new coal-fired power plants.
My gut feeling is that TXU, David Poole and Kim Morgan have already done more than enough damage to TXU's brand and they'll slink away with their smoky tail between their legs rather than continue on this ridiculous path.
Surely their money would be better spent on Rick Perry's campaign than fighting a small environmental group, bringing all this attention to their bullying, frivolous campaign to silence their critics, and creating a whole new breed of critics in the process. (Cough, cough…)
Additional materials:
To read TXU's demand letter, visit
http://www.citizen.org/documents/txudemandletter.pdf
.
To read Downwinders' response, visit
http://www.citizen.org/documents/darlettertotxu.pdf
, and to view Public
Citizen's response, visit
http://www.citizen.org/documents/responsetotxu.pdf
.
---