Monday, October 02, 2006
Being Mark Foley
Fresh from
Annoy.com
. Using former Republican congressman, Mark Foley's own words, a collaboration that is sure to sicken the sane.
Being Mark Foley: The Love Poem
By Clinton Fein & Mark Foley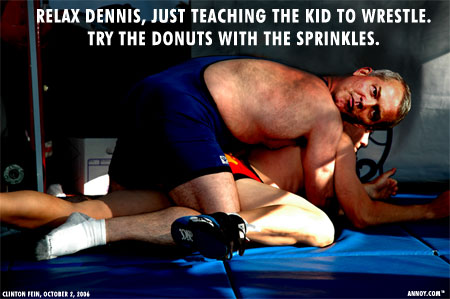 Won't you suck my cock, young man?
And do you jack off in the can?
Do you do it in your bed?
I think I'd like to give you head
Cute butt bouncing in the air,
Come work with me, I'll take good care
In Pensacola...had to catch a plane
I want to taste the towels you stain
How my favorite young stud doing?
Imagine how cool if we were screwing
Love to watch those great legs running
To stroke your underage cock so stunning
Well don't ruin my mental picture
The page system's notorious fixture
Did you spank it this weekend?
I want to fuck your tight rear end
Dennis Hastert's busy eating,
And you and I, our cocks are beating
Is your Mom or Dad near by?
I want to suck your young cock dry
Do you really do it face down?
And when you cum, do you smile or frown?
Where do you keep your sweaty jocks?
Do you love pussy as much as I love cocks?
I always use lotion and the hand
Same hand I sign legislation for the land
My congressional colleagues look away
Don't even know that I am gay
Well I have a totally stiff wood now
Sexy kid, just tell me how
To get you to rub it in my face
No campaign worries, I've won that race
Is your little guy limp...or growing?
How do we keep your folks from knowing?
So tell me when your reaches rock
I want to suck your teenage cock
What you wearing, handsome boy?
I want to play you like a toy
Love to slip them off of you
And eat your ass before we screw
I'm stroking mine, proceeding gaily
At your age seems like it would be daily
Get a ruler and measure it for me
You horny kid, come play with me
Keep this a secret, don't divulge
You naked, um so a big bulge?
Did any girl give you a hand job this weekend?
I'll fuck your hole; I'll be your friend
I want to make your tight ass ache
I want to grab your one eyed snake
I hope she didn't see anything
Your Mom's around, you cute young thing
It must feel great spurting on the towel
I'm the fairest man, there's nothing foul
I'm your favorite Republican congressman jock
You hot young man; I am hard as a rock.
---