Tuesday, August 15, 2006
MSNBC - More Shit Nothing But Crap
The desperation at MSNBC is excruciating.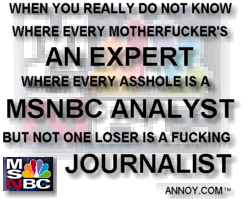 From annoying "MSNBC Reports," endless "investigative reporting" by John Seigenthaler of prison inmates and security procedures and the newly branded, much touted "doc blocks" , and other crappy stories about husbands killing their wives, seem to be the new focus, prodigiously breeding, of what was once a news channel. The names blur: Captured, The Iron Hand of Justice, The Stench of Journalistic Desperation.
And while it's a relief not to have to listen to Rita Cosby wheeze the news of the day or breathlessly compete with Greta van Susteren (literally) over Natalie Holloway coverage, the only choice among Hickville's hellfire Nancy Grace; cunt dunk falafel adulterer, Bill O'Rielly; pudgy pansy, Tucker Carlson; or spit-spewing, high-pitched bitch, Chris Matthews, is suicide.
Joe Scarborough, the former Republican version of Gary Condit (dead interns lying around his office and stuff) who, like Geraldo, fights hurricanes ala Don Quixote, has now resorted to cussing and beeping to boost his ratings, unable to even compete with the osteoporotic, hunched-shouldered Larry King. Yep, the same Scarborough who nearly had a nervous breakdown over what to tell his young sons who saw Janet Jackson's nipple (what did he tell them about the dead intern?) has no qualms telling them about assholes by behaving like one. Or acting like a big, fat, but unfortunately floppy, dick.
All of this follows the startling decision by the powers that be at NBC Universal to hire Dan Abrams, the little-boy-man, wet-behind-the-ears (and probably still a virgin until he finds the right guy or grows facial hair) to take over from MSNBC Chief, Rick Kaplan, the asshole that MSNBC hired (after CNN gave him the boot in 2000) and then fired in June.
The only thing consistent about MSNBC through all these depressingly obvious attempts to
be something
is that they still consider dried-up coke whore, Vicodin-popping, Howard Stern wannabe, Don Imus, a newsman. Brilliantly disguised as an Ann Richards lookalike grocery salesman, pawning salsa, coffee and old-man stink.
Oh that there was dedovshchina -- the abusive system used by the Russia military -- to discipline these fucking morons. Ease our pain by broadcasting theirs.
Now
there's
a ratings slam dunk.
---
Comments:
Undeniably believe that which you said. Your favorite reason seemed
to be on the net the simplest thing to bear in mind of.
I say to you, I certainly get irked even as other folks consider issues that they
just do not recognise about. You controlled to hit the nail upon the top and also defined out the whole thing with no need side-effects ,
folks can take a signal. Will likely be back to get more.
Thank you
Here is my weblog
...
click through the up coming page
Post a Comment