Sunday, August 20, 2006
Fuck All that You Can Fuck…in the Army!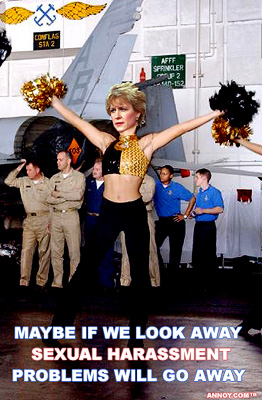 A six month
investigation by the Associated Press
found that over 80 military recruiters across all branches of the military were disciplined for misconduct with potential enlistees in 2005.
Under Rumsfeld's watch. In 2002, Defense Secretary Rumsfeld disbanded the Defense Advisory Committee on Women in the Services (DACOWITS), the only entity that provided a modicum of oversight to the rampant sexual harassment in the military.
Aside from lowering the recruiting standards in both physicality and intelligence – a decision that has already begun to bear fruit given the rise of neo-Nazis and other self-styled militia that will produce and churn out gangs of Tim McVeighs – Rumsfeld's miscalculation of every step in the Iraq war has left America's military worse off than ever before, despite more than 1.5 billion allotted to recruiting efforts this year.
In essence, under Rumsfeld, we now have sick, over-stressed, under-paid assholes recruiting women leading to a situation where, according to Associated Press, "Women were raped on recruiting office couches, assaulted in government cars and groped en route to entrance exams." The report also found that "at least 35 Army recruiters, 18 Marine Corps recruiters, 18 Navy recruiters and 12 Air Force recruiters were disciplined for sexual misconduct or other inappropriate behavior with potential enlistees in 2005."
Like Cheney's "last throes of the insurgency" predictions that precipitated an all-out sectarian war, you still have enablers like Defense Department spokeswoman Lt. Col. Ellen Krenke insisting that the Pentagon takes these things very seriously
Elaine Donnelly, President of the Center for Military Readiness, has her head so far up her dry cunt she can't see the forest from the bush. She told Associated Press reporter Martha Mendoza "Let's face it, these guys are handsome in their uniform, they're mature, they give a lot of attention to these girls, and as recruiters they do a lot of the same things that guys do when they want to appeal to girls. There's a very fine line there, and it can be very hard to maintain a professional approach."
Perhaps Ms. Donnely has a difficult time keeping her panties on for anyone who might be handsome and pay attention to her, but for most sexually functional people, this is hardly an adjustment. It's a social norm. It probably also explains why Ms. Donnely is such a vociferous opponent of openly gay servicemembers serving in the military. Guess who wouldn't be able to contain herself in the showers?
With Rumsfeld killing DACOWITS, and people give credence to the likes of Donnely's Center for Military Readiness, who don't seem to mind the odd rape or five hundred, but would sooner boot out a gay servicemember who's fluent in Arabic and helping to save the lives of his comrades on the ground in Iraq, what do we expect? It's surprising they haven't used an image of a very pregnant Lynndie England as a recruiting poster.
"Not only do you get to see the world, you get to torture it, and get laid!"
These are the people we are entrusting to enlist the best and the brightest, and we wonder why we end up with Abu Ghraib and Haditha.
---