Sunday, July 23, 2006
Headbutt Diplomacy
By CLINTON FEIN
July 22, 2006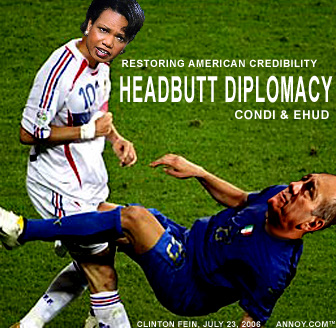 Nothing captured the world's attention quite like the World Cup which culminated in a dramatic clash between Italy and France in which French captain, the gifted Zinedine Zidane, better known as Zizou by those in the know, head-butted Italy's white trash, trouble maker, Marco Materazzi, in the chest after he called Zizou "the son of a terrorist whore" according to published reports, albeit speculative.
As the realities of an Israeli incursion into Lebanon threaten to ignite the already volatile Middle East, the nationalism inspired by World Cup fervor suggests that in sports, like diplomacy, there is only one thing that counts. Winning.
The United States' embarrassing 2-1 loss to Ghana in the first round demonstrated, perhaps metaphorically, how little influence the United States seems to wield these days, and the irony of France making it to the finals could not have been lost on hawks and doves alike, especially the macho, beef-chomping, Bud-swigging chumps who see the French as cowardly,
foie gras
-nibbling, Champaign-sipping appeasers.
[
Read Full Editorial
]
---