Thursday, February 23, 2006
Who the Bloody Fucking Hell Are You?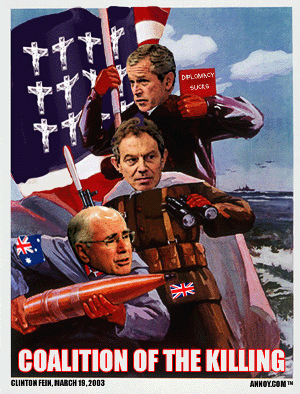 Far be it from us to denounce vulgarity. But when hypocrisy slaps you hard enough in the face, a response is usually necessary. Australian Prime Minister, John Howard, defended a new advertising campaign, "Where the Hell Are You?" launched by Australian Tourism Minister Fran Bailey. Howard told reporters in Sydney:
"I think the style of the advertisement is anything but offensive but is in fact in context and I think it's a very effective ad."
What makes it so incredibly eye opening, is that this is the same blood-lusting Iraqi War Bush sycophant – an original "Coalition of the Willing" cheerleader, who complained to reporters last month about the decline of good manners in Australian society.
"I think we have seen a marked deterioration in good manners…I think it's time that the television networks put a curb on the increasing use of vulgarism on television."
We're not sure if this is allowed in Australian society, but we have a polite question for Mr. Howard: Who the Bloody Fucking Hell Are You?
---
Comments:
Get any Desired College Degree, In less then 2 weeks.
Call this number now 24 hours a day 7 days a week (413) 208-3069
Get these Degrees NOW!!!
"BA", "BSc", "MA", "MSc", "MBA", "PHD",
Get everything within 2 weeks.
100% verifiable, this is a real deal
Act now you owe it to your future.
(413) 208-3069 call now 24 hours a day, 7 days a week.
Post a Comment