Wednesday, October 26, 2005
Things Fall Apart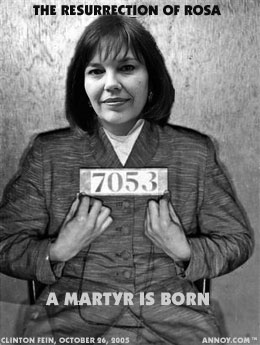 Clinton Fein slams Republicans and Democrats alike in his latest editorial on Annoy.com,
Things Fall Apart
. From Karl Rove and Scooter Libby to Judith Miller and Hillary Clinton, nobody emerges unscathed.
Given the downward spiral of women's rights in the new Iraq, (and Laura's long-forgotten commitment to women in Afghanistan), all that's needed to complete this branding of American feminism is the introduction of a sexless, frigid, religious virgin to mandate morality whilst sipping from Diet Coke cans with Clarence Thomas.

Enter Harriet Meirs – the most unqualified sycophant ever! The woman George W. Bush has nominated to replace Sandra Day O'Conner on the Supreme Court is a shallow, forgetful, inconsistent brownnose who believes the control of women's bodies ought to be shaped by men with delusions of piety, and in imaginary, sandal-clad martyrs watching protectively from the heavens.

Not since Mr. Bush himself was appointed to the Presidency has a nominee been so extraordinarily unqualified to hold a position. When Monica sucked President Clinton's cock she ended up with a soiled dress and a lousy job at the Pentagon. Harriet Meirs kissed George W. Bush's ass and was offered a lifetime appointment to the Supreme Court.

Things Fall Apart: The Full Editorial
---